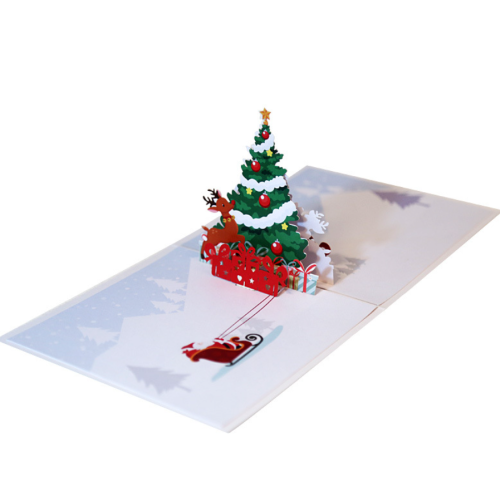 Popup Christmas Gift Cards 15*15 cm
3D Christmas cards
| | |
| --- | --- |
| Size | 15*15cm |
| Occasion | Christmas |
| Feature | 3D Christmas tree |
| Content | Paper |
Free shipping is available but the price varies based on the shipping days. Please choose the shipping options below to help yourself to order on the website. Please email us for any kind of questions.
Cannot meet the minimum quantity? No worries, most of items are in stock and we can be flexible with the quantity if you email us.
Useful Links Before Bulk Order
3D Christmas cards
A physical gift card seems to be forgotten by people. However, gift cards can be very powerful in marketing. When you send out a gift on a special occasion, a gift card is preferred for the sender to pass the messages and the recipient will be very likely to keep the card as a memory.
It's powerful for marketing, because we can customize your brand logo with business info in the cards. So it is a good reminder for the recipient to order from you next time when they want to gift something.
This 3D popup card goes beyond in its design. It is very creative, vivid and proved to be very popular in the market.
Please email us for gift card customization. You can order online when the items are in stock.
<