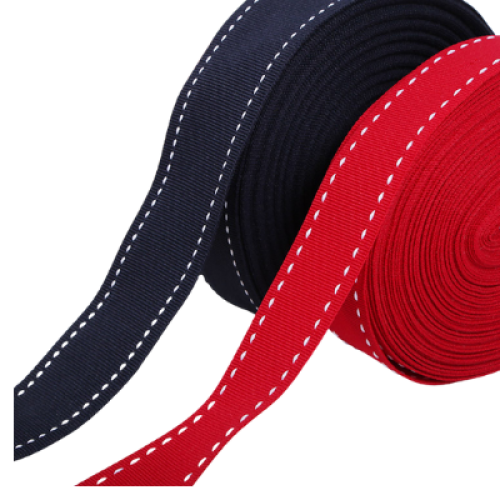 Grosgrain Ribbon 10mm*500mm
| | |
| --- | --- |
| Size | 1cm*50m |
| Pack Of | 50 meters/roll |
| Colors Available | 16 |
| Feature | Stitched Ribbon |
| Content | Polyester |
Free shipping is available but the price varies based on the shipping days. Please choose the shipping options below to help yourself to order on the website. Please email us for any kind of questions.
Cannot meet the minimum quantity? No worries, most of the items are in stock and we can be flexible with the quantity if you email us.
Useful Links Before Bulk Order
Fast Shipping Market Price:
A$2.99
Price:
Product Code:

In13521342-7
This product has a minimum quantity of 20
A nice grosgrain ribbon is a bonus to make the gift more presentable. We have a big variety of gifting ribbons for your options at the most competitive wholesale price.
This stitched polyester ribbon is top quality with colors available.
Types Of Ribbon
1. GROSGRAIN
Grosgrain is thickly woven with lengthwise fibers, grosgrain provides a bit of elasticity, making it the perfect material for trimming and edging. It is widely available in a variety of colors and is relatively inexpensive.
2. JACQUARD
This durable ribbon was named after the 19th-century weaver Joseph Marie Jacquard. The ribbon is unique in that both sides exhibit the same pattern, just with inverse colors. Jacquard ribbon's high quality and attractive appearance make it ideal for decorative accents.
3. SATIN
What is Satin? First and foremost, it is not a raw material. Satin is a type of weave, constructed by floating several warp yarns across the weft before going under 1 weft thread and beginning the cycle again. Having fewer interlaces leads to the smooth, lustrous surface we all know and love.
4. PRINT
In the modern world, technology has made it possible to print any word, pattern, or image imaginable on the surface of a ribbon. Printed ribbons appear quite similar to jacquard, but typically only have one patterned side. This is a less expensive alternative to luxe jacquard.
4. ORGANZA
Organza is a thin, plain weave, sheer fabric traditionally made from silk. Many modern organzas are woven with synthetic filament fibers such as polyester or nylon. Silk organza is woven by a number of mills along the Yangtze River and in the province of Zhejiang in China.
<